So we continue... oh and that blacksmith
Posted on
After spending the last few weeks on the Ashby Canal we are picking up our original journey on the Coventry Canal down Atherstone in a Stafford direction to meet up with the Blacksmith boat. C'mon you know the one Brian Greaves everyone has heard of him! No-doubt on route we will get asked countless times the question "do you know Brian Greaves" well i am answering it now Yes we do! If you really have not heard of Brian Greaves....... check him out here www.briangreaves.com he is very good at what he does! Obviously its all exactly the same as what we do...... only joking.
We have had a busy old time and just the other day another one flew the nest in the shape of our diving KingFisher.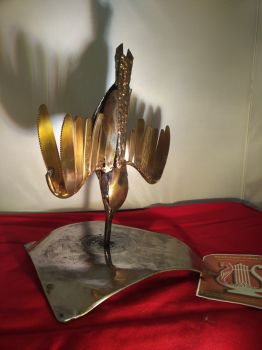 I am sure he will look even more beautiful in his new home.
We should have some new work to share with you all soon and new sculptures for the shop.