As the title of this post suggests we are making our way into Birmingham. It turned out that us planning on being in Birmingham coincided with 2 weekends of Christmas floating markets so we decided we may as well book into both and know we are guaranteed a mooring. The first being 24th/25th November and the second being 1st/2nd of December on the canal in Birmingham Center near to The Arena.
This also means we need to get on and actually make some items to sell! We have been very busy with commissions over the summer and into the autumn which means the shop display has dwindled as items have sold and we had been to busy to replace them. As most of our items are complete one offs they take a lot of thought and time to produce so we will still be very limited as to how much we can get done before then!
Its a long old slog for us into Birmingham with the pair and lots of locks. Well i say long old slog but i actually quite enjoy doing the locks with the pair i just do not always enjoy the people i encounter along the way. Hopefully we pick non windy days!
Before all of that we have to get there, we are at Tixall wide doing some tlc and polishing.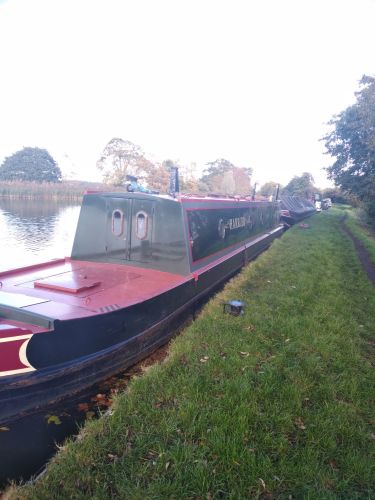 The keen eyed amongst you will notice the lack of huge genset on the front! Which means we actually can see through our front windows, an exciting development and something we have not been able to do since we brought the boat!
We shall be heading back towards Rugeley and making our way towards Curdworth for the end of November with some stops and work along the way.
Oh we did make a snake at the weekend, try and get some juices flowing