First weekend done!
Posted on
Our first weekend this year in Birmingham now complete.
We will be doing another weekend in Birmingham 1st/2nd December as part of the floating market.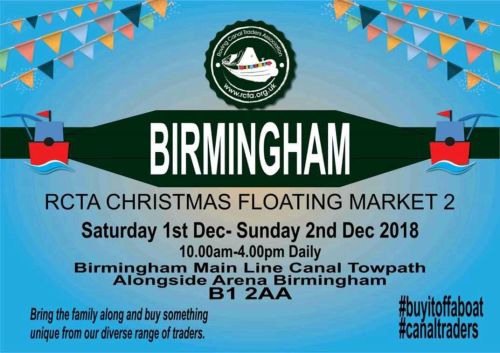 This is not a huge market like the big city center christmas markets, so please don't come with expectations of grandeur. This is a simple event that the traders here make a big effort to get to. Moving a boat isnt like a car. It takes days/weeks to get somewhere and over winter there is the constant battle of closures for maintenance making journeys that bit trickier. So sometimes there can be 20 boats at an event and sometimes only 5 or 10 etc depending where people are. However unlike the big commercial markets there are some very unique items here that you WILL NOT find anywhere else so it is well worth a little visit. Last weekend the market had boats on both sides of the canal do please make sure if you see some bunting on the other side you hop over the bridge for a visit.
Please note neither market is a night time market due to the logistics of providing enough safe lighting though some traders may stay open later if its busy and they can provide light. As it seems the council have turned off the canal street lighting here.
We have been positioned along with Wireart by Nickie on the side further from the NIA (Arena) and this may also be the case next weekend.
This week we shall open on some days if the weather is nice and get on with some work, but please if you plan to visit us this week or if you saw something at the weekend and want to come and purchase please contact us first if you are travelling to get here. The bell will be on the back cabin when we are open even if the butty cloths are not closed.