Merry Christmas a Blog about a Vlog
Posted on
It's nearly here so a Very Merry Christmas and Happy New year to everyone who reads this! We have our little tree up here at Reverie Canal Trading Co.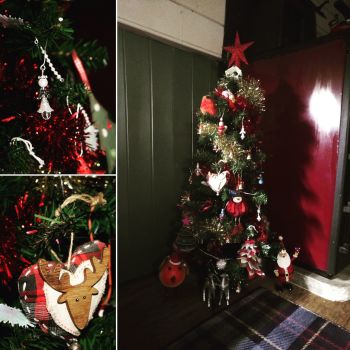 Some of you may be wondering what our Christmas Hours are well in truth we don't really have any. Obviously Christmas and Boxing day we may be stuffing our faces and fancying a few drinkie poos. Any other time its business as usual, but please bear in mind other people we rely on such as metal stock holders and so on may be keeping different hours to us over the festive period.
In other news we are busy getting ready for next year with some quite exciting projects in the pipeline work wise. If they all go ahead it will be a very busy year indeed. Not forgetting Lyra's Cabin change in Spring 2019, im sure if Lyra could be excited she would be very excited about that!
We have also featured in the well known Cuising the Cut Vlog. Here is a link to said Vlog CLICK HERE (Market Research) . I have to admit i wasnt quite camera ready, Dan was missing as he had gone to make the lunch!
We will be remaining in the Midlands for the first part of the New Year, if you want us please do not hesitate to email us. Either via our website form or via the direct email address CONTACT US.
We have lots of interesting sculptures on our website if your still looking for that perfect and unique present. CLICK HERE
Peek a boo