Harrier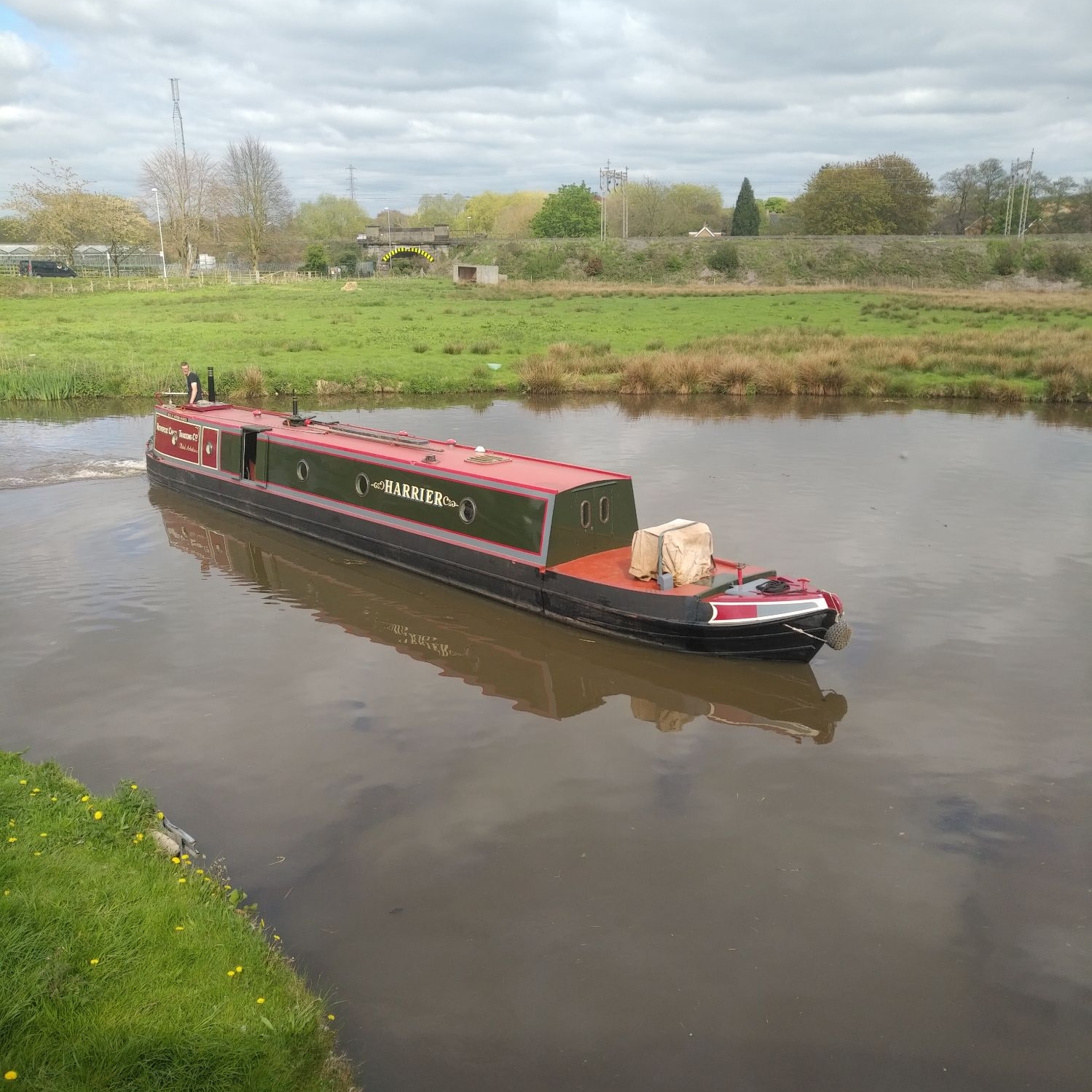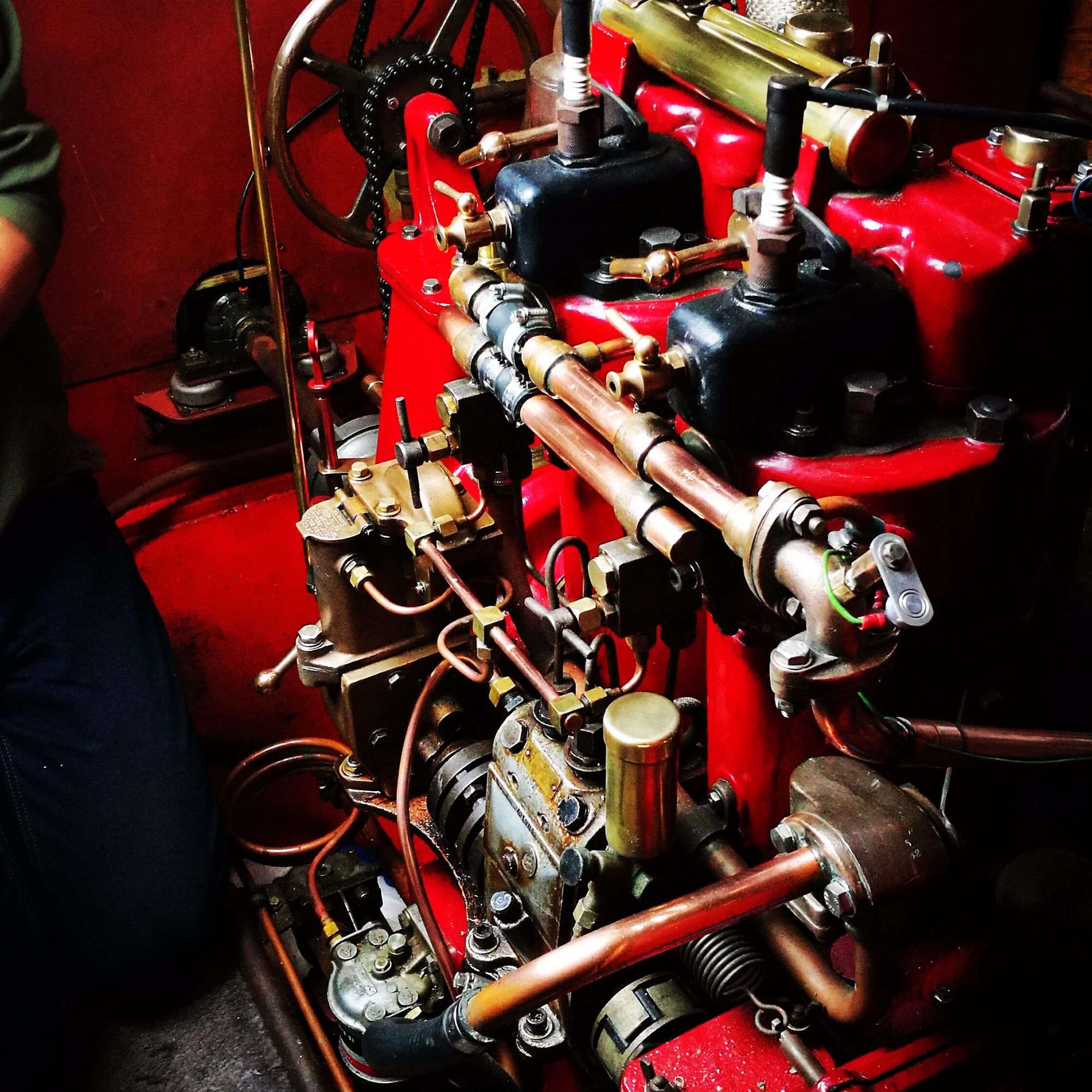 Harrier
Our home and the other half of our pair, Lyra's means of getting about.
Are those spark plugs?
The common question asked as people peer inside the engine room on Harrier.
The answer… YES they are.
WARNING*** If you have an interest in engines carry on reading if not I suggest you navigate to another page now. Bore on! ***
Harrier itself is not an old boat having being built in 1999 by Gary Gorton. The engine however is, a 1946 Kelvin J2 rebuilt with love by Tom Montagu over many years.
Our particular J2 engine 23572 built 1946 was fitted to a wooden hulled 35ft sea going fishing boat & originally raw water cooled.
To quote the Manual: " The model J series of Kelvin Diesel engines are of the four stroke, vertical, naturally aspirated, compression ignition, solid injection type and combine robust strength with ease of accessibility and compact size."
Shaft Horse power - 22
Number of cylinders - 2
Swept volume – 2960cc
Engine weight with reverse gear only - 614kg
Propeller Dia - 19.5 x 15"
Bore - 4.25"
Stroke - 6.375"
Engine speed - 225 – 1000rpm
Flywheel Dia (hand starting) - 28"
Mean piston speed at 1000rpm – 5.3meters/sec
B.M.E.P at full load – 96.4psi
The engine is petrol start from cold, although once warm will start on diesel. Some people have removed the petrol start completely but why?
Modern diesel engines use glow plugs to warm the compression chamber to aide cold starting. This is the job that is done by the petrol on the Kelvin warming the cylinder allowing the diesel to combust easier from cold. Also applying less stresses to the internal components of the engine.



A brief history of Kelvin.
Walter Macdonald Bergius
28th May 1904 Walter set up the Bergius Car & Engine Company in Glasgow. The very new company built their first car in 1904 with a wooden body, wheels & solid tyres. However the car soon broke down with bad engine damage.
Walter was not beaten and soon redesigned the engine with new machined components. This engine was the 4 cylinder 3.5" bore poppet valve. As soon as 1905 Walter was back producing cars the trials of which lead to a production run of 3 cars, even fitted with pneumatic tyres. Competition was tough. In 1906 Walters brother asked if could have a 12hp 4cyl side valve engine to put into his boat. The engine was installed at Kirn by James Lister into the boat aptly named "Kelvin". The boat was used in competitions outperforming the rest. This lead to other boat owners also wanting one of Walters engines in their boats. It was not only the leisure side of things fishermen also to came to hear of Walters engines which prompted them to think about the benefits of a motor boat.
With car manufacture not going how Walter had planned but interest coming from the marine side of things by the end of 1907 Kelvin Engines had become established. It was suggested to Walter that he also start manufacture of this own stern gear and propellers. 1909 and annual sales had risen to £21000 with thanks to the fact that the boat Kelvin II was the boat to beat in the Clyde races.
The company grew and in 1910 a new factory was built. Engines on offer now ranged from 3 to 60hp.
Walter designed all the engines up to model P before employing a chief design engineer.
1930's Walter went on to design a range of sleeve engines. The benefits of which were an efficient and quiet running engine.
The new range of Kelvin sleeve valve engines was introduced alongside the side valve petrol/paraffin engines. This meant requiring even more factory space. The sleeve valve continued production until 1935.


The movement was then into Kelvin Diesel engines. Overhead valve, four stroke & high compression.
This is a very very brief history. If you want more in-depth information google is your friend or even better is a book by Kevin Whittle the book of the model J. Which covers Kelvins history in great depth.
If you got this far I hope you enjoyed reading, I quite enjoyed typing!
Bore off!